Jazz Guitar Lessons
Below you will find the Freeguitarvideos.com collection of jazz guitar lessons. Our free online lessons are five to ten minutes in length and are designed to introduce you to a jazz technique, theory, or concept. If you enjoy the free lessons, we also hope that you'll take a look at our premium lessons. These are longer downloadable video lessons that feature more in-depth instruction. We have lessons for jazz beginners and the more advanced player. Choose a lesson that interests you and start learning how to play jazz guitar today!
Featured Free Jazz Lesson
Voice Leading Within the 2-5-1 is a free jazz guitar lesson by Guy Fenocchi. By using specific chords in a progression you can also create a melody through harmonic movement. Guy will teach you how to play the 2-5-1 in both C and F with voice leading chords. In the first example, the highest note of the chord voicing (2nd string) creates the melody. From D-9 to G13 it stays the same, then drops a half step for G+7, and again for C9. In our second progression, the melody will move up. Click to view the notation.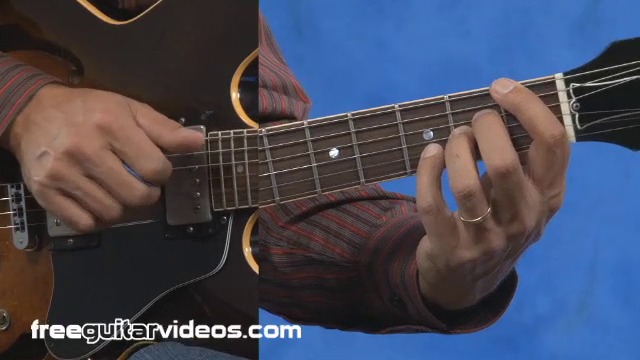 Premium Jazz Guitar Lessons
Beginning Jazz
Jazz Rhythm
Jazz Lead